"How do I explain what's in my heart; Fairhaven is my home… it is a wonderful place to live."
Gladys Cotton, Fairhaven Resident
Fairhaven's services are designed to respond to the needs of each individual resident. Varying degrees of assistance, support and services are available to our residents to ensure that Fairhaven meets their needs while, at the same time, encouraging their individuality and independence.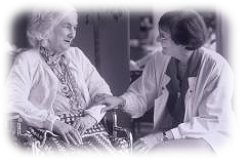 Residents are admitted or transferred to Fairhaven's various resident home areas as indicated by the nature of their needs. Fairhaven has a special care unit where programming is adapted to the functional needs of residents who are physically active and cognitively impaired. Fairhaven staff provide residents with assistance, support, opportunities and encouragement to assist them to meet their individual goals.
Programs and Services
Resident Care Services
There is an organized program of resident care services in place to meet the residents' nursing and personal care needs. This includes 24-hour coverage by Registered Nurses, Registered Practical Nurses and Personal Support Staff. The program is consistent with the professional standards of practice of the College of Nurses of Ontario. The nursing service department is managed by the Director Resident Care and the Resident Care Managers.
Resident Programs

Recreation and leisure services are organized to provide age-accommodating recreation, leisure and educational opportunities based on and responsive to the abilities, strengths, needs, interests and former lifestyles of the residents. The Resident Programs department is managed by the Programs and Support Services Manager.
Social Work Services
Referrals are made on an individual basis to access available social work services to meet the individual resident's psychosocial needs. Services are also available to assist family with the challenges they may face with their loved one being in long-term care. Business cards are available at the reception desk . You may also contact the Social Services Worker directly by contacting Fairhaven or asking the RPN/RN to contact the Social Services Worker via email.
Therapy Services
Therapy services are organized to ensure the therapeutic needs of residents are met. Residents have the opportunity for individualized therapy as well as group therapy, based on the assessed needs of the residents participating. An organized restorative care program is available for those who require this service. A full-time physiotherapist complements the staffing in this area. Occupational therapy and speech therapy can be accessed through the Peterborough Community Care Access Centre as required. This service is managed by the Nursing Department.
Volunteer Services
There is an organized program of volunteer services. The Volunteer Resources Coordinator is responsible for organizing and coordinating volunteer services to meet the needs of the residents.
Spiritual Care
There is a specialized program to respond to the spiritual and religious needs and interests of the residents. A beautiful Worship Centre, centrally located on level 3, provides an enlightened space for spiritual care and religious services. Spiritual services are coordinated by the Programs and Support Services Manager.
Support Services
There is a coordinated program for dental, audiology and foot care services to meet the needs of the individual residents. Every resident has an oral and foot care assessment done on admission and at least quarterly, or more often as required. Basic foot care is provided by registered staff. Advanced foot care is provided only by registered staff qualified in advanced nursing skills in foot care.
The Therapy Room on level 5 is equipped with a dental chair and light for use by local dentists and a mobile dental service in order to meet the ongoing needs of residents who are unable to access dental services in the community.