As a provincially approved Long-Term Care Home, Fairhaven's rates are established annually by Ontario Ministry of Health and Long-Term Care rather than by Fairhaven or the City and County of Peterborough. Rates are the same for all Long-Term Care Homes in Ontario. They are based on changes in the payment entitlements of Old Age Security (OAS), Guaranteed Income Supplement (GIS), and Guaranteed Annual Income Supplement (GAINS).
Basic Accommodation
Rooms for which basic rates apply accommodate 2 residents in an "L" shaped room with an attached washroom.
A number of semi-private rooms are also designated as basic accommodation.
Preferred Accommodation
Semi-private rates are charged for rooms occupied by one person with an attached washroom which is shared by the resident in the adjacent semi-private room.
Private rates apply for rooms which accommodate one resident and have an attached washroom which is not shared.
Long Term Care Rates
Long term care rates are set by the Ministry of Health and Long Term Care and are outlined here Long-Term Care Home Accommodation Charges
A resident choosing basic accommodation who cannot afford the full monthly rate can apply for a Ministry Rate Reduction (note that there is no rate reduction available for semi-private or private accommodation). To apply for the rate reduction, the following steps are taken:
The resident provides Fairhaven with his or her last "Notice of Assessment" from the Canada Customs and Revenue Agency (formerly Revenue Canada). This is the notice that a person receives from the federal government in the mail after submitting an income tax return.
Fairhaven will conduct an income test to determine the reduction the resident is entitled to receive, if any. Testing is completed only on the resident's income, not on the resident's assets or the resident's family's assets.
Fairhaven will use the Ministry of Health Reduction Worksheet to determine the level of subsidy to which the resident is entitled.
Resident Rooms
Basic Room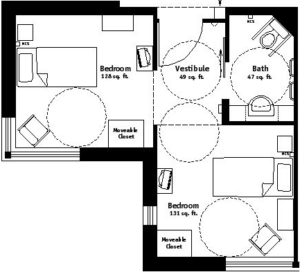 Semi Private Room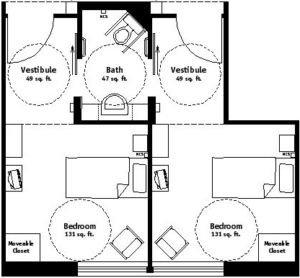 Private Room