Fairhaven Staff COVID Bulletin #136 – Proof of Vaccinations Deadlines and Posting of Positions
The attached letter, and Vaccination Policy, has been placed in the communication folders of employees who have not yet been fully vaccinated, and/or have not provided information on scheduled vaccination dates in the near future.  Please read the letter carefully and note that the associated positions will be posted on Wednesday October 20th and will come down on October 26th.  At this time the positions will be awarded to the most senior applicant for a six month period.
RE: Coles Notes for General Visitors Starting Monday, June 28th, 2021
There have been a lot of changes made recently to general visit guidelines and FH policies. Here is a short list that touches on important points that are in effect starting Monday:
General visits will no longer require an appointment to be made
Daily hours will be 10:00am to 5:30pm, 7 days a week
All general visitors will need to be screened and receive a rapid antigen test
The large tent will be available for people to visit in; we will have the second tent moved to the front lawn, in front of the 15 minute parking spots, for general visits as well
No food or drink can be brought to general visits. If individuals are eating and drinking, they won't be complying with PPE guidelines.
Aside from brief hugs, or brief close contact between Residents and visitors who are both fully vaccinated, physical distancing and surgical mask/eye protection guidelines must be followed.
Fairhaven Staff COVID Bulletin #109 – Resident Movement
Residents Being Able to Socially Distance
While it will sometimes be very challenging to help Residents maintain six feet of social distancing, this will remain our goal as the Ministry will expect this policy to be followed, and the Peterborough Regional Health Centre will be basing their related IPAC audits on this distance. While dining rooms are not being cleaned, or do not contain potentially hazardous items on tables, chairs, etc., Residents will be able to "spread out" into these areas in order to maintain physical distancing. Resident Programs will continue to provide activities for Residents but please keep in mind that these programs will be limited to four people or less (for the immediate term).
Caregiver Visiting Hours
Starting Monday, March 22nd, essential caregivers will be allowed to enter Fairhaven from the hours of 0900 to 1700. Once they are inside the Home, they do not need to leave until 2000, which is when our last screener will be leaving.
Fairhaven Staff COVID Bulletin #108 – Dissolving of Staff Cohorting (Staffing Bubbles)
Almost a year exactly from the start of measures taken to prevent and contain the spread of COVID-19, the time has come to dissolve the staff/Resident Home Area cohorting.
While there will never be a time to dismantle the staffing bubbles that will be without some safety concerns, the timing to take this step has been made prudent by many factors including the following:
Our Residents have been vaccinated
Our staff, who have chosen to be vaccinated, have received their first "shots" which will provide over 90% efficacy for months
After a slow start, many different vaccines are being shipped to Canada, in growing quantities, which are making their way to Peterborough (hopefully mass clinics starting soon)
While variants of concern (VOCs) are a serious concern, Peterborough Public Health is doing a tremendous job in contact tracing and increased vaccinations are keeping Ontario's new case counts steady between 1,000 and 1,500 (so far)
PPE precautions will remain in effect for the foreseeable future

Effective 0630 on Monday, March 22, 2021 the bubbled cohorts at Fairhaven will be dissolved and ALL Fairhaven staff will return to their permanent posting. This will remain in effect until an outbreak is declared, or we receive direction from the provincial government/Public Health that cohorting is required. This means that from a scheduling/staffing prospective, everything will return to pre-pandemic staffing, as per the CUPE/ONA collective agreements starting on March 22nd. There will be a few exceptions.
We will not continue the use of PPE to enter an RHA, or to work between RHAs. PPE will be used as required by additional precautions and mandatory masking regulations. Essential caregivers will continue to wear the PPE we supply them (gown, mask, face shield). Staff will continue to wear face shields when performing personal care or administering medications.
Once the bubbles are burst, there will be considerable movement of staff in the home. Minimizing unnecessary movement will remain a priority for infection control purposes. For example: if you work in Riverside 3, you will still break in Riverside 3 (or you may choose to leave the home). Care staff that work in an RHA will not have use of the staff lounge or other break spaces in the home. Sadly, there is simply not enough space. Core staff may break in the 4th floor staff lounge, or may also leave the building. If you do not have any work-related business in an RHA where you are not scheduled, you are not permitted to enter. It is essential that we limit travel in the home to only that which is necessary.
Please remember that a 6 full feet minimum must be maintained by unmasked people at all times. This includes residents. Please do not cluster residents in lounges where they cannot be distanced. Yes this is their home, but we still have to make the effort to keep everyone distanced for the obvious reasons. This will be even more important with the increased daily movement of staff.
Employee COVID-19 Screening/Testing:
Please read this paragraph carefully and if you have questions reach out. The rapid testing continues to be a hot-topic and all the answers should be here. There will be no changes to the sick-call/screening processes. You cannot come to work with any symptoms consistent with COVID-19. We cannot screen symptomatic staff with the rapid antigen test kits. When you are sick, you must have a PCR test. Asymptomatic staff will continue to be screened using the rapid antigen test kits three times a week as long as we are not in an outbreak situation. The only way you will not be tested three times a week is if you are not working three times in any one given week. One week is considered Monday-Sunday. If you work three days during a Monday-Sunday, you must be tested three times (even if the days are consecutive). If you work seven days, you must be tested a minimum of 3 times. If you only work twice, you will be tested twice. If you are only scheduled twice, but then you get called in, you will be swabbed three times. You do not need to make a special trip in on your day off to be swabbed if you are not physically in the building three times.
One very important thing to keep in mind about opening up the bubbles is that there is the potential for disaster if we do not follow infection control policies to the letter. An outbreak that can be easily contained among a dedicated group of staff is not necessarily going to be so easily contained if we have any lapses in our infection control practices. For this reason, infection control policy violations will be handled in a disciplinary manner starting at a written warning. Updated policies and expectations will be sent out in writing to the RHA/communication boards in the home. Everyone will and should know what is expected of them.
We have had a great number of discussions, throughout the past several months, about how this change would look with respect to different CUPE positions and departments. We would like to acknowledge the effort put forth by your CUPE executive in bringing concerns forward and in maintaining an open/honest communication channel to help in shaping our "reopening." We are all committed to doing everything we can, in a safe manner, to leave Bill 195's provisions behind and focus on our collective agreement. Part of our ongoing consultation with CUPE executive centred around the bath shifts. We have been given a lot of information from Linda and Donna about what these positions have meant to the Home in terms of managing the stress involved in the pandemic an in the day to day workload on the floor. We will be keeping these shifts in place for the remainder of 2021 and will do everything we can to build them into our base budget moving forward in future years.
Active Screening:
Symptom screening upon entrance to and exit from the home will continue, unchanged, until further direction is received from the province.
Employees will continue to enter and leave the home through the staff entrance on the first level.
Admin staff may enter the main entrance of the home between the hours of 0800-0900 only. Admin staff entering the home outside these house must go to the lower staff entrance. The main entrance screener has a small window of opportunity where they can screen in a handful of people, but cannot accommodate high-volume at this time.
Essential Visitors such as lab technicians and x-ray technicians will continue to enter at the lower entrance until we determine if the main entrance screeners can handle the capacity.
Resident Movement:
Residents will remain on their home areas unless they are leaving the home for an appointment or LOA. There will be no cross-portering or open travel by anyone throughout the home.
Residents may also leave their home areas to attend a scheduled visit in the Great Room.
When the weather is consistently nice enough for residents to be outside, there will be a process to accommodate this. Please stay tuned.
Outbreaks:
If/when a laboratory confirmed case of COVID-19 is identified in the resident or staff populations, cohorts must be reinstated.
Every staff member will be made aware of their outbreak floor ahead of time. This will be posted with the seniority bi-weekly. As soon as you receive notification that outbreak has been declared, you will be expected to report to your outbreak floor. Mandatory PPE will be reinstated for 72 hours after the onset of outbreak.
Nutrition Services:
Evening Kitchen Aides will no longer be performing touch-point cleaning/sweeping/mopping at the ends of their shift. This will result in a reduction of 45 mins for the evening Kitchen Aide.
Carts will no longer be filled and bussed down to the elevators. Kitchen Aides will come into the kitchen to load their own carts. This will result in a reduction in hours for the PWE shift.
Cambro carts will be delivered to the floors just outside the elevator. KA staff will retrieve their own carts but will not wait for them at the elevators. They will be placed in such a way that they can be seen from the RHA doors.
Nutrition services staff will resume delivering of snack carts, desserts, etc. as per usual routine.
Table-dividers will remain in place on the resident dining room tables.
We will resume our sister servery process when more food is needed at meal times.
Pick up time for the breakfast Cambro cart will return to the original time of 8:30am from 8:25am. This is b/c we are not helping resident's sanitize their hands when entering the dining room.
Environmental Services:
Housekeepers will resume moving back and forth between their two RHAs.
COVID cleaners are above compliment and will continue to provide touch-point cleaning throughout the home.
Floor machine shifts will resume as per pre-pandemic operations.
Nursing:
The RPN night compliment will return to pre-pandemic numbers. The PAN night lines will be retired. Please remember that WV2 is currently housed in the RS2 RHA. The night WV2 RPN will be stationed on RS2. The WV5/RS2 RPN will remain on WV5 and may be redeployed at the RNs discretion to another RHA if necessary.
The remaining RS2 staff that are currently displaced will be provided a permanent assignment until such time that we reopen the vacant RHA. In the event of shortages elsewhere in the home, the RS2, double-booked staff, will be redeployed before incurring OT.
Bath shifts will remain in place until further notice.
The 6-10/6-11 float positions will be given a designated RHA weekly when the CMI is generated. They will not actually float.
BSO staff will remain in their assigned areas. They may come to the office to receive instructions and/or review communication binders, etc. but BSO staff will not remain in the office until further notice.
The staff that hold a float position (6-10/6-11) will be assigned a single RHA based on CMI.
Mail and packages will no longer be delivered to your RHA. Please pick these items up daily.
ALL STAFF: Until a plan re: smoking is established, please continue with the current practice of one balcony for staff smoking and one balcony for resident smoking.
Resident Programs:
RP staff will resume moving back and forth between the RHAs, with no cross-portering of residents.
Group activities must be kept to a minimum as per current practices. No large group activities.
RP staff will no longer require the use of the RHA computers.
Until further notice, the RP5 person will not go to R1 after supper. They will remain on WV5.
Human Resources:
The use of staff folders will be reinstated. For example: if we print your paystub for you, these will now be put in the filing cabinet and not delivered to your RHA.
The filing cabinet will be moved to outside the 4th floor elevator.
You may give/trade shifts with anyone in the home, regardless of where they work.
Calls ins will occur as per pre-pandemic processes. There will be no calls made by bubble after March 22nd unless we enter an outbreak situation. The CUPE vacation book will be followed starting April 26th. Please ensure you have all your vacation in the book no later than March 15th. After that, vacation will be granted on a first-come, first-served basis. ONA members will be awarded vacation as per their collective agreement.
Please don't forget to review/submit your permanent availability. This will be used to generate the schedule as we will return to the 6-week posted schedule in April.
Reception:
The process of holding packages and items that come into the home will not change. Items that are necessary to perform resident care will be cleaned and disinfected and forwarded accordingly (i.e. medications/CPAP machines, slings, wheelchair parts, etc).
The mail boxes outside the RHAs will be removed if any are still remaining.
Please do not call reception and ask to be transferred to scheduling. Put the backdoor number in your phone (705) 743-0881. The extension for scheduling is 222/275. Reception handles far more calls than ever with the booking of visits, to receive general information about COVID policies and practices, etc. so this will decrease their time spent on the phone.
We are getting closer to whatever our normal will be. It has been far from perfect, and everyone is exhausted from the sacrifices made over the past four months. On the plus side, we have what I feel is a unique labour/management relationship, built on trust and a mutual willingness to bring issue forward to each other in honest and respectful manners. There is a lot of work to be done but we will come out of the pandemic with a supportive culture based on integrity.
Break Spaces – March 2, 2021
This is just a reminder regarding where bubble/core personnel are to take their breaks.
All Core Staff:
Laundry, Admin, Physio, COVID cleaners, reception, etc. can break in the 4th floor staff lounge, the 4th floor balcony, or they may leave the building.
All RHA Staff:
Must break in the activity room on the RHA, a balcony on the RHA, or they may leave the building.
RHA and Core staff must not break together. This constitutes breaking a bubble. It is vitally important, especially with a COVID Variant actively spreading in the community, that we don't let our guard down. Please maintain your cohorts and maintain 6 feet of distance between you at all times when you are not masked.
We take this matter very seriously and will follow up with any non-compliance. We are all more than aware of social distancing expectations. Please ensure they are adhered to.
Please print a copy of this memo for your communication boards and binders.
Fairhaven Staff COVID Bulletin #106 – Is Being Vaccinate Mandatory and Working During the Pandemic Without Being Vaccinated
Some questions were raised on the weekend about whether being vaccinated was mandatory and whether someone could work during the pandemic if they were not vaccinated (similar but not exactly the same questions).
Is being vaccinated mandatory? No, the vaccine is not mandatory. Please note the communication (below) that went out from Lori Rowsell on January 22nd, especially the following: "Vaccination is not mandatory. You must make an informed decision for yourself about the risks and benefits of the vaccine." The email also includes a number of sources of information, including a video of Dr. Spink answering commonly asked questions, that would be helpful in coming to a decision.
Can I continue to work during the pandemic if I choose not to get vaccinated? – Currently there is no Ministry of Health, Ministry of Long Term Care, or Public Health direction to prevent unvaccinated employees from working so the answer to this question is "Yes." The only ways that this could even potentially change would be:
If Fairhaven was to have another outbreak in the Home, especially if it is a Variant of Concern (VOC)
If the Ministry of Health provided guidance to homes with made it necessary to receive the vaccine in order to work (or, to work when the Home was in outbreak).
If legislation was passed, by the Province, to make it legally necessary to have the vaccine before working in a long term care setting.
I have not received any information that would indicate that any of these three scenarios are forthcoming. As everyone knows, our environment can change on a hour to hour basis so we will definitely keep everyone informed if we are sent any details that would change our present policy of allowing people to continue working without the vaccine.
If we do not have an email address on file for you please send me one ASAP.
PRHC is having difficulty making all the phone calls due to several missing emails (not just us). Having an email address will get you booked in sooner.
COVID-19 Vaccination Appointments
If you haven't already, you will soon be receiving an email to book your vaccination appointment at PRHC. If we did not have a personal email address on file for you, a phone number was provided.
Follow the link to book your appointment before/after work or on your day off. We will not be able to replace employees to leave during their shifts to attend an appointment.
If you need help booking your appointment please let us know and we'd be happy to help.
Once you are vaccinated, please submit proof to my attention and you will be paid for an hour on your next pay. You will not receive the hour of pay until the required documentation is submitted.
If you do not receive a link or a phone call please don't panic. Just let me know and I can make an inquiry for you. The system may need some time to generate and send.
It's happening Fairhaven! ?
Lori Rowsell
Fairhaven Staff COVID Bulletin #105 – Mental Health Resources
Mental Health Supports for LTC Team Members – Please visit this website (https://clri-ltc.ca/resource/mentalhealth/) for various resources that are available for health care workers including:
Personal crisis assistance
Coping skills
Support for caregivers
Resilience/recharge practices
Mindfulness
Counselling
Frontline worker online training
Webinars
PLEASE POST TO CUPE NEWS AND INFORMATION SECTION OF FAIRHAVEN WEBSITE.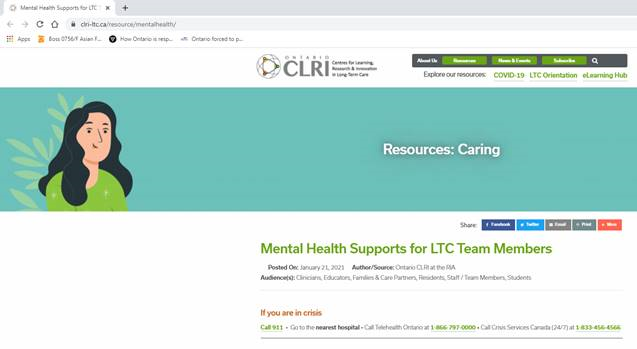 Fairhaven Staff COVID Bulletin #104
Today Peterborough Public Health notified Fairhaven that our scheduled vaccine administration date will be moved up, potentially to as early as Tuesday or Wednesday of this week (January 26 – 27). This is going to be a large logistical challenge, on no notice, with several families having planned on more time to submit consents. The Nursing Team will be busy tomorrow in preparation for an earlier date for Resident inoculations.
On the vaccination dates, we will have teams onsite from Peterborough Public Health to administer the Moderna vaccine to residents, starting at approximately 0930. This will be a collaborative approach between Public Health Nurses and FH.
Please be aware that this has not been announced publicly and situations are so fluid that current tentative plans by Public Health are always subject to change. In the interest of having this important challenge met successfully, we are forwarding the request from Public Health that we do not share this information outside of Fairhaven, including the posting of details on social media (CUPE will be posting this notice on your private FB group).
This is a tremendous first step to ensuring the safety of our Residents and, ultimately, to everyone that works at FH as well. Thank you for your cooperation.
OUTBREAK IS OVER
We have just been given confirmation that our outbreak is over. Earlier today we were told that Fairhaven would be informed of Peterborough Public Health's determination tomorrow morning. Essential Caregiver (EC) attendance at Fairhaven will resume tomorrow afternoon. We are still in a provincial lockdown so only one EC will be allowed at one time. Faceshields must be worn unless they will not be within six feet of their loved one. Resident leaves are still suspended. If an EC asks about vaccination plans, we have not been given firm dates for our clinics onsite and it has not been confirmed that staff and ECs will receive their vaccinations on site or not. I will communicate all of this information to family and staff as soon as we receive it.
FULL WEEKS OFF
I know that there are a lot of people out there that have made it through the past 11 months, and the holidays, without the benefit of having full weeks of holidays. We also know that every Resident Home Area has people who need a break and also people who would like more hours. We have developed this form for those who want a full week off. These sheets can be printed off and posted on each home area. Include your name, the week that you want off (and some other information), and other staff in your bubble will sign up for some, or all, of those shifts. Hopefully this will provide a break for those that are needing time off, and some extra shifts for those that are looking for more hours. If you have any questions, please contact a member of the Nursing Management Team.
Thank you.
EMPLOYEE BULLETINS WILL NOW BE POSTED TO WEBSITE
We have been working with your CUPE Local to find a way to enhance the communication method for employee bulletins. We will now be posting all notes to a new area on our website called CUPE News and Information. No user names or passwords required.
SCHEDULING CALLS
I know we call have enough numbers already to keep track of, but I would like to encourage everyone to use the "back door" number of 705-743-4265 to call, or return calls from, Scheduling. It could very well be quicker, especially if it is a busy day at Reception. If people had each number in their phone, as a distinct contact, then both could be used to contact the Home, depending on what, and who, you need. If you end up calling the regular number of 705-743-0881, you will be transferred to Scheduling.
DAYCARE FOR ESSENTIAL WORKERS
The following information was recently posted on the Examiner webpage:
"Emergency child care services for provincially identified essential workers during the provincewide shutdown is being expanded with additional capacity starting next week, the city announced Friday.
Emergency child care services for children 3.8 to 12 years old (junior kindergarten, senior kindergarten and school-aged children) is available for provincially identified essential service workers in Peterborough city and county until the Jan. 25 scheduled end of the provincewide lockdown.
The emergency child care service is provided at no cost to eligible families of identified essential service workers under the provincial program administered by the city
To be eligible, families must have no other option for child care and be working outside of their home, according to a press release from the city.
Registration opened Friday. Families can register at onehsn.com/peterborough. Registration will be managed by the chosen emergency child care agency. Final approvals will be completed by city staff.
With the exception of the emergency child care agencies, all other operators of before- and after-school programs have been required to close until Jan. 23 and are prohibited from charging fees or otherwise penalizing parents (such as by losing spaces) during the time period.
Family centres cannot offer indoor or outdoor programming during the lockdown either and are being encouraged to provide virtual programming.
Licensed centre-based and home child care can remain open during the lockdown. Most licensed child care centres in the city and county are open and are providing regular full day services for infants and toddlers up to 3.8 years, the release states."